Bringing Montrealers to the mountains for over 60 years.
Our history
Rod Roy Ski & Snowboard School has been offering winter programs to Montrealers since 1962. The school was founded by Rod Roy, who was a high school teacher for 32 years, notably at Sir Winston Churchill High School in Ville Saint-Laurent.
Before the 1960's, skiing the Laurentians was mainly the pastime of wealthy families with ski chalets. Rod Roy Snow School was part of a wave of travelling ski schools based out of Montreal that provided bus transportation. Skiing immediately became more accessible to children and teenagers from non-skiing families. Virtually every ski hill in the Laurentians and Eastern Townships has been part of Rod Roy ski programs, including long-forgotten resorts such as Carling Lake, Mont Fugère, Mont Castor, Sun Valley, Yvon Coutu and Glen Mountain.
Now well into their 80s, Rod and his wife Nancy can still be found on the slopes during the ski season, reminding everyone that there is no such thing as a bad ski day.
The programs have evolved over the years but Rod's commitment to "extra service and quality in a fun and safe environment" has never changed. Rod's son, Doug, has been the Snow School Director since 1997. In addition to the regular Rod Roy programs, our sister company Ski Evolution has been offering ski trips for school and corporate groups from Montreal, Ottawa and Kingston since 1987.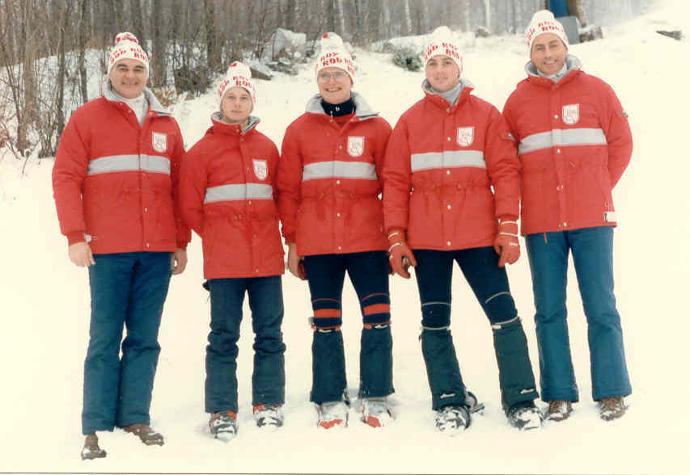 Canadian Ski Instructors Alliance Hall of Fame (2006)
CSIA's National Hall of Fame is dedicated to preserving the history of the organization, inspiring and encouraging the development of young Ski Instructors, and enshrining CSIA Icons and Legends who have made a significant contribution to the growth and well-being of the CSIA on a National scale and to the sport of skiing and ski teaching. Rod Roy Snow School was honoured to be inducted as a Special Contributor in 2006.

Laurentian Ski Hall of Fame (2009)
The Laurentian Ski Hall of Fame was founded with the aim of honouring athletes, builders, organizations and journalists prominent in the field of skiing. It is maintained by the Musée du Ski des Laurentides, located at 6 rue de la Gare, Saint-Sauveur, QC. We were honoured to be inducted in 2009, in recognition of our "promotion of skiing in general and the Laurentian mountains in particular".